It is the most unique gift of love that anyone could give to someone they care for. Our personalized scripture cards offer daily encouragement to those who receive them from you. Each card offers you a promise as it seems that God himself speaks to you personally through our one to one (121) cards. Our cards have been used for every occasion and encouragement. They were a huge hit for Christmas and Graduations this year. They have been very popular for birthday presents since our beginning in March 2009. We, ourselves and many others like to use the cards to encourage those who are dealing with major medical issues, dealing with cancer, or have lost loved ones. Our 121 Cards are for anyone you wish to encourage or inspire.
Click here to follow us on Facebook
Ordering from 121 Cards is easy!
We do it all by email at 121cards@comcast.net. We encourage everyone to make the 1st card of the set even more personalized by creating your own greeting or sentiment. Just provide the information below and we will handle it from there.
121 Cards are $10.98 per set
+ Tennessee sales tax if applicable
We only need to get a little more information to make your perfect gift of encouragement to those you love.
Who the cards go to?
This would be the name you want us to use which will be placed in the personalized scriptures. Since we are using God's word we ask what name God would use to talk to this person daily? (Usually the first name or name the person prefers to be called)
Do you want to change the greeting on the first card?
Our standard greeting is: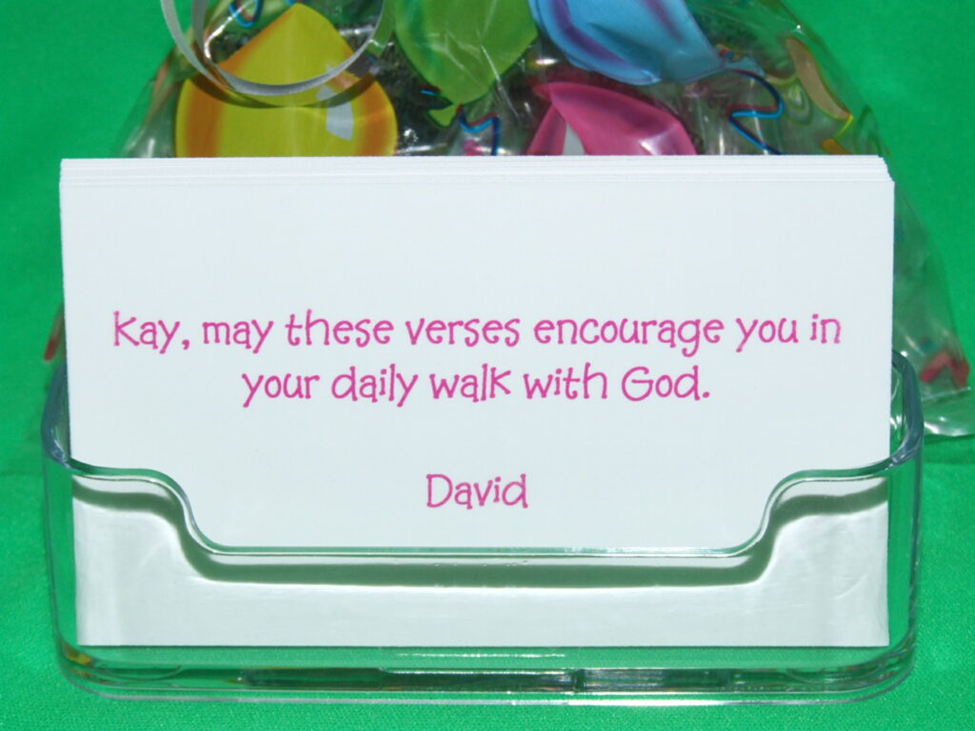 We always encourage folks to customize the first card to say any sentiment they want to make to the person receiving the gift. Here are some examples of some….some get pretty good you will see.
Just a little encouragement, strength and peace from me to you, Momma, I pray these verses encourage you today. Know that I am thinking about you and praying for you. Thank you for sharing God's love with me. I Love you.
"Happy Birthday!!! I pray that you will find comfort and encouragement from these verses on your daily walk with God. You are such a blessing to me! I Love You!!
Pam, you are not only my sister, but my mentor and my best friend. Thank you for always being there when I need you. May these verses encourage you in your daily walk with God.
Maxine, Happy Birthday! I miss you so much and wish we could be together more. Thank you for sharing your son with me for seventeen years. May these verses encourage you in your daily walk with God.
"I have dreamed my dream, called out for it to be true, and God heard my cry and sent me a blessing called you.
"Thank You Missy!" God Bless and Keep you on this Birthday and always. Happy Birthday.
Happy Mother's Day to my Ma. May these verses encourage you every day! I Love You!
Jenn, may you find words of encouragement and peace in these verses in your daily walk with God. May you find your days to be less stressful with each verse.
What occasion you want the cards for?
General gift, Birthday, Christmas? We try to wrap them accordingly.
Where to deliver the cards?
We try to save everyone some money if we can. We live in Brentwood (Nippers Corner Area) so folks can come by the house. Or sometimes we can have a son, wife, or myself make a delivery to your home or office or arrange for you to come and pick them up. We can always mail the cards which we try to only charge cost only.
About Us
We offer a unique gift of encouragement to those who need their spirits lifted. Who can encourage more than our loving God as He speaks to you personally in every card you read.These cards are an ideal gift or encouragement for all occasions. People throughout our first year of operation have been giving these cards for Birthdays, Valentine gifts, Graduation presents, and Christmas gifts. Others love to use our 121 Cards as a gift of encouragement for those loved ones with difficult medical issues, hospital patients, cancer survivors, and those who have lost loved ones. Our 121 Cards are for anyone you wish to encourage or inspire. Please email us at 121cards@comcast.net and let us know how we can serve you. David and Cheryl Gee.
121 Cards Provides Us A Very Unique Ministry. 121 Cards was born out of simple beginnings. My wife, Cheryl, was given a set of personalized devotional cards as a Christmas gift in 2007. Daily she would be encouraged as she read the cards and God would speak to her through His own words as written in the Bible and on her cards.
In 2008, Cheryl picked her own verses, 59 of them, to give as Christmas gifts to her close friends and our son's teachers. Cheryl gave her hair stylist, Cammy M. a set in which she placed in her work area. Within days, a friend of Cammy's, Leslie M. from Colorado Springs, Co. (we live in Brentwood, TN) called to have some cards made for her friends. Before we knew it, Leslie had ordered 11 sets of personalized devotional cards. Additional requests came from other people who had seen the cards. In March 1, 2009 we obtained a grant/license from Zondervan for permission to use the NIV selections and sell our 121 Cards in the United States.
The neatest thing about our business is that it has provided us an opportunity to encourage others by making these cards. Because God has blessed us with more than we deserve, we are able to encourage others by giving most of our profits to help some local mission efforts that we support in the surrounding Brentwood/Nashville area.
Customer Feedback
Thank you Cheryl, and I can't wait to give these as gifts. Thank you again! I LOVE these devotional cards!!!!! Leslie M.
Lisa S. told me about the Christmas gift you got for Cammy—the personalized scripture cards—and I would love to know where you got those! Several people on my gift list I would love to give that kind of gift to…. Wow! That is great service! Laurie W.
Cheryl, Thank you so much for the cards! I don't need to tell you how great I think they are! Whenever you are up and running, I would like one for Nancy P. and Betty (my mom). Torie N.
More from Leslie…The cards arrived in perfect condition!! I love how you packaged them! I gave my sister-in-law hers and she flipped over them ( I knew she would) and she couldn't wait to give the cards to her friend, Barb. I would like to order 5 more sets of devo cards. Thank you so much! Have I told you how much I love these cards? Well, I DO!!!!! Leslie M.
Thank you for the information so quickly! I think God's Word is an excellent gift, too, and an encouragement in tough times! For right now, I'd like to order a set of cards for "Annette. Marla S.David & Cheryl, You are awesome with everything you do for others. You may not feel like what you are doing is very big, but it is making a huge difference in people's lives! You do so much for others. Lisa S.
I just received my personalized daily scripture cards in a holder as a gift from Kathy C I absolutely love them and would like to start giving them as gifts to friends, family & clients. Please let me know how much they are and how long it takes to get them. Thank you, Freida J
Kathy C. gave me a set and I absolutely love them. They are on my desk at work right under my computer screen. Heather B.
Contact Us
Email us at 121cards@comcast.net
Our address is:
6356 Banbury Station
Brentwood, TN 37027
For questions regarding sales or service, please call us at 615-479-5127 or e-mail 121cards@comcast.net